At last! Already available to buy… The trendy t-shirts that the german firm JAKIDA BERLIN has designed exclusevely for M4M !! There are several designs  unisex, man and woman, as well as different colours and sizes. Get yours NOW! 
SHIPPING WORLDWIDE!
Just click in the new link NON-PROFIT COLLECTION (*)  and you will find all the available designs.
Some of them:
There is only one Earth, and we need to take care of it. Otherwise all ideas and inspirations that brought us here will be gone one day. This is why at JakidaBerlin they work only with 100% organic fabrics. Their cotton is harvested following the strict GOTS (Global Organic Textile Standard) quality standards and all the products are considered "Climate Neutral", as they have been produced to maximize the reduction of CO2 emissions and using solely renewable green energy.
In accordance with our engagement, JakidaBerlin apparel is certified by the Fair Wear Foundation, which guarantees that it has been manufactured under socially responsible production conditions.
Based in Berlin, the JakidaBerlin artists are filled with the vibrant vibe of a multicultural city. Finding inspiration in its streets, parks and common spaces, the designs of JakidaBerlin are an expression of the young, modern and plural spirit of this city. They aim to share these ideas with every individual in this planet by offering them unique designs accord with the latest trends. With JakidaBerlin you will always stay in the groove, sharing our common values with the rest of the world.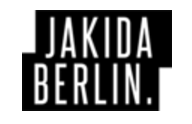 (*) All the profits from this collection will be donated to found the expedition of a group of volunteers collaborating with the NGO Bridges to Prosperity.